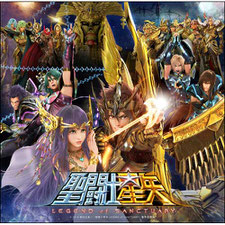 La web Gamers Online Shop acaba de revelar el tracklist del soundtrack del film con animación CGI de la franquicia: Saint Seiya Legend of Sanctuary, próximo a estrenarse el 21 de junio en Japón. 
La lista de canciones de este OST llamado "Saint Seiya: Legend of Sanctuary (Theatrical Anime)", realizado por Yoshihiro Ike y que saldrá a la venta el 18 de junio a un precio de 3.240 yenes (32 dólares), es: 
01. Blue Sanctuary (Santuario triste)
02. Waging the Holy War (Librando la Guerra Santa)
03. Athena
04. Fateful Encounter (Fatídico encuentro)
05. Unknown Force (Fuerza desconocida)
06. The Hope (La esperanza)
07. Saint--Battle (Santo--Batalla)
08. Saint--Fellowship (Santo--Compañerismo)
09. Blaze of Sanctuary (Destello del Santuario)
10. Ambivelence (Ambivalencia)
11. Missionary from Heaven (Misionero del Cielo)
12. Luminous Threat (Amenaza luminosa)
13. Reunion and Volition (Reunión y voluntad)
14. Arrow of Destiny (Flecha del destino)
15. Stairs to Sanctuary (Escaleras al Santuario)
16. The Youth Shines (La juventud brilla)
17. Sheer Heart (Corazón puro)
18. Strength to Advance (Fuerza para avanzar)
19. Rising Cosmo (Elevando el Cosmo)
20. Determined Will (Voluntad determinante)
21. Mr. Deathmask (Sr. Mascara de Muerte)
22. Gate to Despair (Puertas de la desesperación)
23. Death's Laughter (La risa de la muerte)
24. Requiem of the Ice Wall (Réquiem de la pared de hielo)
25. Just Like a Comet (Como un cometa)
26. Aurora Execution (Ejecución de Aurora)
27. Power of Dragon Blood (El poder de la sangre del dragón)
28. Crimson Terror (Terror carmesí)
29. Burning Warrior (Guerrero ardiente)
30. Mighty Gold Saints (Poderosos Santos de Oro)
31. Boundless Power of Athena (El poder ilimitado de Athena)
32. All Seeing Darkness (Oscuridad que todo lo ve)
33. The Light, the Heritage (La luz, la herencia)
34. Snatched Soul (Alma arrebatada)
35. Red Shooting Star (Estrella fugaz roja)
36. Good Will Calling (El llamado de la buena voluntad)
37. Armageddon (Armagedón)
38. Burning Universe (Universo ardiente)
39. Wings in the Sky (Alas en el cielo)
40. Heavenly Light Beam (Rayo de luz celestial)
41. Divine the Future (Adivina el futuro)
¡Una joya que los fans no deberían perderse! 
Fuente: store.universal-music.co.jp